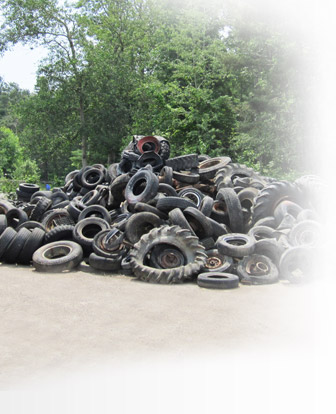 Helping Our Environment, One Tire at a Time
Trillium Tire is exclusively a hauler of waste tires in Ontario. Under Ontario Tire Stewardship, we haul tires from registered collectors of all sizes, from yards to garages, which we transport to processing facilities within Ontario.
Launched in the fall of 2009, Ontario Tire Stewardship aims to drastically reduce the number of used tires that end being burned or placed in landfills across the province, By hauling these products to registered processors, the used tires are turned into new, usable products, such as playground equipment.
Reducing the strain on our environment means we all benefit.
"Haulers are organizations that pick-up used tires from collectors and transport them to tire recyclers. Haulers who pick-up tires from registered Collectors and deliver to Processors registered with OTS are key players in the responsible management of scrap tires, ensuring that these tires are directed to the highest available recycling purpose. Registered Haulers pick-up tires from registered Collectors for no charge, enabling the free and easy entrance of these tires into the value-added recycling stream". -OTS

For more information regarding Ontario Tire Stewardship, please visit https://www.ontariots.ca/